Bounce Infinity E1 First Ride Review: Bounce From Infinity To Beyond?
Feb 23, 2022
Views : 6603
---
Is this the high speed e-scooter that will mobilise the masses towards electric mobility?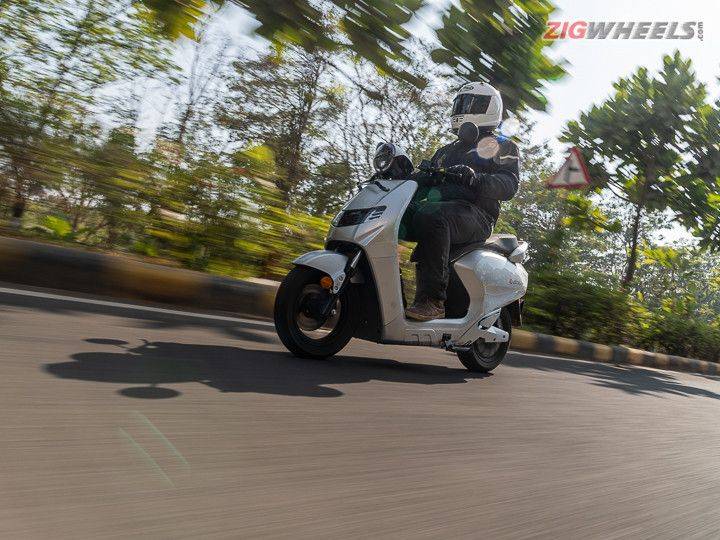 Let's start with an analogy. The iPhone and Samsung Galaxy S21/S22s are the top dogs when it comes to smartphones the world over. However, companies like Xiaomi and OnePlus have been selling their modestly priced phones like hot cakes here in India. In a similar vein, there are products like the Ather 450X, Bajaj Chetak and the Ola S1 which are the cream of Indian EV scooters. But what if you wanted something that looks a bit premium, has decent range and performance, and most importantly, costs a fraction of the asking price of these premium e-scooters?
Enter Bounce with its first electric scooter, the Infinity E1. And before we delve into the riding, it is important to know its USPs first.

USP 1: Pricing Options
Bounce has devised three pricing plans for the Infinity E1. The first is a conventional plan where you pay the entire price of the scooter up front. Here's how much it costs in states where there's additional subsidies:
| | |
| --- | --- |
| States | Price |
| Gujarat | Rs 59,999 |
| Karnataka | Rs 68,999 |
| Delhi | Rs 68,999 |
| Maharashtra | Rs 69,999 |
| Rajasthan | Rs 72,999 |
| Others | Rs 79,999 |
Moving on to the unconventional price, if you feel that the asking price is a bit much and you would like it to be a bit cheaper, then Bounce will sell you the scooter without the battery. To operate the scooter and to get the battery, you will have to provide a monthly subscription fee. There are two subscription plans: Rs 850 or Rs 1250 per month. Here's the exact price breakdown:
| | | |
| --- | --- | --- |
| States | Price With Battery Subscription At Rs 850 per month | Price With Battery Subscription At Rs 1,250 per month |
| Gujarat | Rs 47,999 | Rs 36,099 |
| Karnataka | Rs 56,999 | Rs 45,099 |
| Delhi | Rs 56,999 | Rs 45,099 |
| Maharashtra | Rs 57,999 | Rs 46,099 |
| Rajasthan | Rs 60,999 | Rs 49,099 |
| Others | Rs 67,999 | Rs 56,099 |
So clearly, buying the scooter with the subscription model seems highly attractive, especially with its low upfront cost. However, let's do some simple maths.
Since we are in Maharashtra, the E1 will cost Rs 69,999 to purchase outright. If we were to pay the lowest price for it, it would cost Rs 46,099 to buy via the Rs 1250 plan.
| | | |
| --- | --- | --- |
| | | Price |
| Price of scooter without battery | | Rs 46,099 |
| Annual cost of battery subscription | Rs 1250 x 12 months | Rs 15,000 |
| Cost at the end of 1 year of operations | | Rs 61,099 |
That's not all, the other USP of the E1 is its battery swapping tech, which we shall get into soon. Each battery swap will cost a maximum of Rs 35 and Bounce states that on an average, a person will need to make 10 swaps a month.
| | | |
| --- | --- | --- |
| | | Price |
| Price of scooter without battery | | Rs 46,099 |
| Annual cost of battery subscription | Rs 1250 x 12 months | Rs 15,000 |
| Annual cost of battery swaps | Rs 35 x 10 swaps x 12 months | Rs 4,200 |
| Revised cost at the end of 1 year of operations | | Rs 65,299 |
So, at the end of a year of operations, you will just end up saving Rs 4,700. By the 15th or the 16th month, you will have spent more via the subscription module than via the regular purchase option. Hence, the subscription plans might look attractive on paper but ideally, we would rather pay the full price upfront and get the scooter with the battery.

USP 2: Battery Swapping Technology
The Bounce Infinity E1 isn't the first EV in India to offer battery swapping. It does promise to offer an alternate solution to ease range anxiety issues, though. Swapping a battery at a swap station would be just as quick as, say, filling fuel. Each battery swap can take place within minutes so that you don't lose your time on commutes.
The Bounce swap stations will be a hybrid of DiY and assisted swap stations. The latter is an extremely thoughtful move by the folks at Bounce for the following two reasons:
For semi-urban and rural India, or for that matter elderly folk, having a trained personnel carrying out the swap will be safer.
At nearly 12.5 kilos, the batteries aren't exactly light.
The advantage of the removable battery should not be discounted. In a city like Mumbai where people usually end up parking their vehicles on public streets, charging EVs can get tricky. Hence, one can just remove the battery from the scooter, take it up to their home/office and charge at their convenience as well.

Keeping Expectations In Check
Now we were riding a pre-production ready scooter with rough edges all around, which Bounce claims will be smoothed out by the time the scooter deliveries start in April. What will not change, though, are the motor and battery specs.
| | |
| --- | --- |
| Specs | |
| Motor | 1.5kW BLDC hub-type |
| Peak Power | 2.2kW |
| Torque | 83Nm (at the wheel) |
| Claimed 0-40kmph | 8 seconds |
| Claimed top speed | 65kmph |
| Battery | 2kWh IP67-rated waterproof battery |
| Charging Time | 4-5 hours |
| Range (IDC/Real-world) | 85km/65km |
Bounce isn't claiming to offer jaw dropping performance or astronomical range. With respect to the latter, in the real world, Bounce claims the E1 will go 65km on a single charge, which, considering the swap stations it will be setting up, is decent.

So, when it comes to performance, as long as you keep your expectations in check, the E1 will continue to deliver a stress-free riding experience. Sustaining 45-50kmph is quite easy in the Power mode, which is where you will spend most of your riding time.
That's because in Eco mode, the throttle response feels dull, very subdued. The 40kmph restricted top speed in this mode isn't enough to deal with city commutes, especially when you need to make your way past slow traffic. Even when you do ride in the 'Power' mode, the throttle response isn't electrifying or exciting, it was just easy and just about enough.
One grouse that we had with its propulsion system was the throttle calibration, which isn't the slickest. There's a slight lag between rolling on the throttle and the scooter moving forwards. Even the on-off throttle transition is jerky and not seamless.
Much like most other EVs in the Indian market, the Bounce too has a failsafe in place to cut electrical supply to the motor when you tap the brakes. This proves to be a bit tricky when you are taking sharp turns or executing U-turns, because you usually have a habit of slightly feathering the throttle as well as tapping the brakes gently to execute said manoeuvre.

Easy Access But There's A Compromise
What most people will like about the E1 is its sense of lightness. At 94 kilos wet, it is one of the lighter high-speed scooter options on sale in India. And even though there is a Reverse mode and a Drag mode, moving the scooter around in tight parking spots should not be an issue. In the event of a tyre puncture, the Drag mode helps dragging the scooter to the puncture-walla that much easier.
Despite having a seat height of 780mm, shorter riders will have to scooch forwards at traffic signals to find their footing. This is due to the width of the seat, which widens quite a bit towards the base. The floor space on offer is adequate at best, and those with giant feet might feel restricted. More so, the low-set handlebars make it quite tricky to carry out sharp U-turns as they end up fouling with your thighs. While it is annoying at first, you will quickly adapt to putting your inside leg down on the floor when making such turns.

You will have to deal with the lack of boot space on offer on the E1, as there's a massive battery occupying the chunk of the underseat area. There's a USB charger present under the seat but we would have ideally liked it to be present on the front apron with some cubby holes as well. Nevertheless, you get two luggage hooks to hang groceries from.

Easy Rider
The E1's lightness makes it quite an easy scooter to filter through traffic, provided you have enough momentum on hand. It doesn't feel jittery or twitchy like most scooters do, thanks to the 12-inch wheel setup at both ends, remaining calm and composed when leaned over.
In its current avatar, you cannot be too enthusiastic when taking left handers, as the extremely protruding side stand digs into the tarmac, forcing the scooter to sit up, causing some nervy moments. Bounce claims the side stand is being redesigned for the final scooter.
The E1 does a good job of absorbing road imperfections. It isn't plush or harsh, pliable at best. Over sharper surfaces, the bumps do filter through to the rider but not in a rude manner.
Braking inconsistencies were aplenty on the first ride. While everyone on the ride faced the same issue where the rear wheel locked up and caused some massive slides, as the rear brakes were quite sharp, the front brake on our scooter lacked stopping power. On some of the other scooters, this wasn't an issue.

Nothing Too Fancy
The E1 has a compact digital dash displaying only the necessary data which is easily legible in all conditions of the day. There is a smartphone app in the works which will show ride data related features and also help with the battery swapping procedure.
The Bounce Infinity E1 looks small and petite without any flashy bits to flaunt, which is a good thing considering its homely appeal. Having said that, the build quality of the E1 could be better, with the plastics rattling a bit over rough surfaces. The quality levels of the paint, plastics and switchgear is rather justified considering its relatively affordable price tag.
Verdict
Clearly, we knew the Bounce Infinity E1 isn't the iPhone or the top tier Samsung Galaxy of the EV world. Heck, it isn't even the flagship Xiaomi or OnePlus. What it turns out to be is something like a Redmi phone, something that does the basics with no frills and no thrills. It isn't for the enthusiast or for the elite but it is certainly a step up from the plethora of low speed options flooding the market. Its intent is clear, it is meant for those for whom affordable and convenient electric mobility is a crucial need of the hour. What remains to be seen is whether the E1 will help the company and the Indian EV space bounce to infinity and beyond.
Bounce Infinity E1 Video Review

More on Bounce Infinity E1

Rs. 45,099 Onwards
Ex-showroom, Delhi
Bikes Similar to Infinity E1
See what our community has to say!
NEW
India's largest automotive community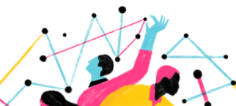 5 Other Things You Might Want To Do